Assistant Teaching Professor of Women's, Gender, and Sexuality Studies and History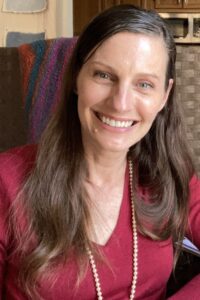 Education
MFA, University of Massachusetts Dartmouth
BFA, Massachusetts College of Art and Design
Professional Bio
Laura E. Sapelly is an Assistant Teaching Professor of Women's, Gender, and Sexuality Studies and History. Her fine art and writing explore the tensions between "women's" work, politics, community, and displacement. This focus emerged from her research on contributions made by American women to mass movements through their sewing circles. Currently, she is writing a book that merges quilting with STEM education.
Publishing credits include Spinning, sewing, and soliciting for the American Revolution in Crafting dissent: Handicraft as protest from the American Revolution to the anti-Trump pussyhats; and a post for the Textile Society of America's biannual conference, A feminist pedagogy through the sociopolitical stitch.
Dr. Sapelly has exhibited her artwork at the Cyclorama, Boston Center for the Arts; Nash Gallery, University of Minnesota; Herter Gallery, University of Massachusetts; and the Belger Arts Center, Kansas City, MI. Her art is in private and public collections, including the New Bedford Free Public Library, New Bedford, MA.