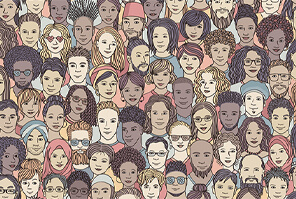 The Diversity Studies certificate is an interdisciplinary and online program of study that explores social difference and inequality related to gender, race, ethnicity, sexuality, class, aging, religion, and disability. How we experience and view the world around us, the opportunities presented to us, and even the people that we surround ourselves with are constrained by invisible and unconscious systems of power. These systems organize our schools, workplaces, healthcare systems, criminal justice system, and media, and reproduce inequality rooted in ignoring or downplaying diversity. The Diversity Studies certificate will encourage students to take an intersectional approach to expose, critique, and confront historical and contemporary sources of social inequality. This certificate will enable students to complement their existing course portfolio by providing an opportunity to deepen their knowledge around issues of difference through a broad range of interdisciplinary coursework. An interdisciplinary approach will make it easier for students to see connections across disciplines and allow them to cluster their coursework in a meaningful and related way. The Diversity Studies certificate is designed to encourage reflection on the ethical challenges that arise when we become aware of how privilege, power, and difference are embedded in our world and daily lives. The aim is to move the discourse away from mere tolerance, celebration or appreciation to a deeper understanding and critique of discrimination, intolerance, and inequality in the historical and contemporary global society.
The certificate will provide students with skills vital to careers in fields such as human resources, non-profit agencies, social welfare, education, and health and medicine. We have designed the certificate around an intersectional perspective that invites students to see the ways that race, class, gender, disability, sexuality, etc. operate together in overlapping and conflicting ways to affect all aspects of human experience.
12 CREDITS REQUIRED FOR THE CERTIFICATE
Prescribed Online Courses (3 Credits)
The one PRESCRIBED course for the certificate, introduces students to this intersectional perspective and situates discussions of race, class, gender, sexuality, ethnicity, and disability within institutional spaces that include: education, the family, work, religion, the criminal justice system, and the media. After completing this course, students are then required to take 3 credits of ADDITIONAL COURSES that include AFAM 100, WMNST 100, WMNST 106, and ENGL 245/WMNST 245.
Specific Additional Online Courses (3 Credits)
Additional Online Courses (6 Credits)
How to Declare a Diversity Studies Certificate
Undergraduate degree-seeking students must self-apply for Certificate Enrollment through Update Academics in your Student Services Center, within LionPATH. Be sure to add the Liberal Arts Diversity Studies Certificate (Not the University College Diversity Studies Certificate through Shenango).
In the semester you intend to graduate, please be sure Diversity Studies is visible on your LionPath and email Laurie Spielvogel (lts5125@psu.edu) that you are ready to receive your Diversity Studies Certificate.
Undergraduate non-degree students notify the academic unit responsible for the certificate program. All new non-degree students must submit a nondegree enrollment form and email it to Laura Spielvogel, the Director of the Diversity Studies Certificate (lts5125@psu.edu). Once entered in the Student Information System, the academic unit enrolls the students in the certificate program.
If you have an questions about the process, please email Laura Spielvogel (lts5125@psu.edu).
12 CREDITS REQUIRED FOR THE CERTIFICATE
PRESCRIBED ONLINE COURSES (3 credits)
ADDITIONAL ONLINE COURSES
Students select 3 credits from:
Students select 6 credits from: