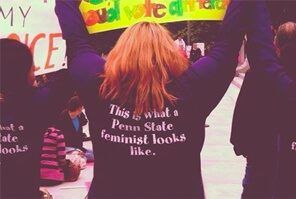 This interdisciplinary minor is designed to develop a broad understanding of the study of women and women's perspectives in all areas of academic scholarship. The primary focus is on feminist analyses of women's lives, women's social, cultural, and scientific contributions, and the structure of sex/gender systems. The interdisciplinary and inclusive nature of the field is reflected in a curriculum that includes courses cross-listed with a wide variety of departments, courses that deal with aspects of women's lives throughout history, and courses that recognize the diversities of culture, race, religion, ethnicity, age, disability, and sexual orientation. The Women's Studies minor emphasizes the development of critical and analytical skills, creative approaches to problem solving, and the ability to articulate productive alternatives.
Women's studies undergraduate minors must complete a minimum of 18 credits of coursework, with a grade of C or better in each course. Please consult with the Director of Undergraduate Studies, Dr. Tracy Rutler at tlr5393@psu.edu, if you are interested in becoming a Women's Studies Minor.
You can declare the minor in Women's Studies through your Student Center in LionPATH. You can view a tutorial.