She received her Dual PhD in Women's Studies and Geography the summer of 2012 and is currently an Assistant Professor in the Department of Geography, Affiliated Faculty of Asian Studies and Women's, Gender, and Sexuality Studies at the State University of New York at New Paltz. She is also the founding member and Co-organizer of DASH Lab.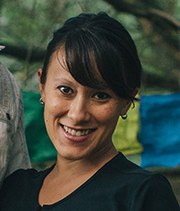 Professional Bio
Melissa Y. Rock received her PhD in Geography and Women's Studies from The Pennsylvania State University. Her dissertation titled, Splintering Beijing: Socio-spatial fragmentation, commodification and gentrification in the hutong neighborhoods of Old Beijing, investigated the impacts of Olympic urban redevelopment upon low-income and marginalized communities in China's capital city.

Melissa is also a Teach for America Alumnae (2000, Oakland, CA), a 2004 NSEP Boren Fellow (China), and a 2008 Fulbright Fellow (China).